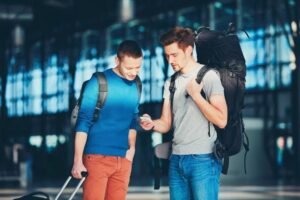 Are you traveling alone because more often the people who travel alone Questions this; How to meet locals while traveling? So they may have communications with good people and they enjoy it and after their return they can tell with pride how good their journey and especially the people they met were.
Also Read Why is traveling so important in life?
Benefits of meeting locals while traveling:
And then meeting locals brings about a lot of benefits to you, you don't have to stay alone at hotels totally on your own and eat from restaurants all the time. One other benefit you get is that you get good company with those who are thoroughly aware about everything in the place you have visited, so you get to know a lot about the cultures, famous foods and many more things.
So, you get a friendly-budget along with knowledge in which way your traveling looks more exciting and thrilling.
8 tips of How to meet locals while traveling:
So, would you too want to enjoy traveling with locals and are there to know about How to meet locals while traveling? So you are at the right place. Here we will guide you through the 10 tips you can follow to meet locals while traveling.
1.
Always try to take airbnb:
So, you may be well aware about what airbnbs are; they are the open area spaces and sometimes very lavishly furnished for the travelers where you can go with your friends and a number of other traveling fellows so you don't have to live at a separate place and get a good company.
But at the same time if you want to take a separate room and don't have any friend with you it is also good, but always try to manage that the host of the airbnb will be there to guide you. Because he will be a local of the place you have visited so you will get a lot of knowledge from him.
2.
Staying at couch-surfing:
If you are a traveler and even if you are not to that extent, you should be well aware about couch-surfing, the place for travelers where you can freely get a couch to sleep on without paying.
And the thing which benefited you is not basically paying, it is though in one way, but in this and at that place you get a chance to meet a lot of locals and communicate with them along with the couch-surfing host.
They allow you to cook, stay comfortably and explore with the locals. Uncomfortability arises when you don't have a bed to lie in, but otherwise it is one of the low-budget ways of traveling and meeting locals.
3.
Eating at a local's home:
How lovely that idea looks even by the name; eating and at someone else's place. I know you enjoy it too. You can stay at their place and eat there as well as you can eat there.
Are you thinking the same way? How can you stay at someone else's place like that and eat like that. So to make you clear about it,  you can get sites like Eatwith and Feastly where you can apply and get a chance to eat at the chef's or host's house at the same time.
And the thing is that they don't allow a huge number of people for that feast so obviously if there are only some of you allowed so dinner will be amazing and you will also be allowed to select some of your favorite dishes to be presented to you.
And once you have entered a local's house to stay and have a feast there, you can take advantage of it and be friendly with them and communicate with them about their cultures, the famous places and many more things.
4.
Getting rides from locals:
So, a website for this has been introduced by Lyft, one of the best sites where you are offered a ride with the local drivers who drive their personal cars.  They allow you to feel comfortable during the ride and communicate with them in a friendly way.
The rides are really enjoyable there because they provide you with a number of initiatives like; Cookie Wars Lyft, Harry Potter Lyft and Lebowski Lyft. Every ride has its own rules to follow.
And even after your ride you get a chance to meet them, again for coffee and movies etc which really looks lovely.
5.
Questioning locals about traveling:
You can find a number of websites where you can ask the questions about your travels, these Questions are transferred to the locals of that area, who get paid for answering your Questions.
6.
Taking classes with locals:
During your traveling you can book the classes which you can take online as well as offline with the locals, who guide you thoroughly about every area, what to cook, what to film, where to visit and enjoy and everything.
7.
Plan tours with locals:
They are the tours planned by the local's companies who lead the travelers to different places and give guidance about every aspect. Here you not only get the chance to enjoy with locals but also get good company and groups with you.
8.
Getting goods from locals:
There are online websites where you can search to buy goods from the locals of that area rather than visiting stores and even you can visit local markets, be friendly with them and communicate with them.
So, now you know about How to meet locals while traveling?Hope you will benefit from all these things in future whenever you will get a chance to travel. Traveling is really an enjoyable thing. And when you get to meet the locals you get on the top excitement. Because they are well aware about every place, foods, and restaurants. Your traveling is thrilling. And you get to meet new people, with new mindsets, new culture and lifestyles.
So plan a trip and follow all the above mentioned tips to make your traveling a beautiful memory.