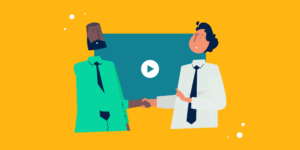 If you're a business, firm, corporation, or organisation, you're probably familiar with the term "corporate video." Most corporate video footage is now hosted online and distributed via social media or email marketing, as well as on the company's website.
This video content appeals to the company's primary customers or employees. A marketing director or corporate communications manager primarily oversees video production in the workplace. And to name a few types of corporate video services, corporate overviews, staff safety and training tutorials, brand awareness and investor relations films, product demos and market updates, and customer testimonials are the important ones.
To increase the reach and impact of their messages, companies are increasingly using video in conjunction with other methods of communication, such as press releases, newsletters, and other similar materials. To create a corporate video, video production companies rely on marketing collateral, direction from the company's communications director, and content-specific language. The complexity and message of a business film can significantly impact how long and how big the production will be. Some corporate movies may require a small team and essential equipment, while others prefer to hire corporate video production experts who specialise in developing B2B corporate video content.
Types of Corporate Video
Corporate Communication Videos
Some of us may have grown up in the era of Xeroxed memoranda or poorly worded (and often lengthy) email communications announcing policy changes or blanket orders. Thanks to current technology, we no longer have to rely on these archaic methods of communication. Using corporate video services, firms can now convey tales and efficiently inform employees, customers, and influencers in an attention-grabbing and compelling way.
Corporate Training Videos
Many firms spend money on corporate trainers and industrial psychologists to teach their staff how to function best within the company's culture and become better communicators.
Many other organisations spend much money on training seminars to assist their personnel in comprehending and following safety requirements, innovative customer service methods, or effective sales strategies. A well-planned and well-produced corporate training film might avoid these expenses and difficulties. With this technology, a company may make the most of its resources and teach its personnel quickly and effectively. It's a no-brainer. 
Marketing Videos
Customers use a variety of screens to access information that is relevant to them at any given time. You need a marketing strategy built on a crystal-clear, laser-focused message to gain their attention and maintain it.
Using video production techniques such as animation, time-lapse, and 3D imagery, your message is seen, understood, and shared on social media. To achieve your goals and increase profits in your business, you should create a high-quality video that takes advantage of the latest production techniques and technologies available today.
Corporate Event Videos
For years, an expert video production team may turn a single event into a marketing goldmine. Imagine showcasing a highlight video or a few poignant remarks from a significant keynote speaker to a prospective client as they exit the event or showing excellent testimonials from guests. To entice people to attend and fund future events, you can produce video invitations using highlights from the event. The return on investment for corporate event films is enormous in nearly every meaningful measure.