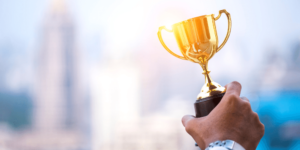 In recent years, custom-designed awards have grown in popularity for various settings and events. This may be because they are affordable, highly customizable, top-quality, and come with an array of design alternatives for everyone.
Personalized awards are made to fit the specific needs of the person who will receive them, making them more memorable than the blank canvas. This post will outline seven benefits of custom awards to give you an idea of why you need to consider them for your company or events.
1. Make Your Brand Stands Out
Awarding your employees and customers is one of the best ways to show people that your brand appreciates their efforts. Moreover, making stunning, custom-designed trophies and medals that impresses your awardees can make them form a connection with your brand. This will encourage them to continue doing what they do best to earn additional distinctive medals.
Customized awards make your brand stand out. For example, if your rival companies give out simple ribbons for their best employees, you can use customized medals that are more associated with the winner. This will encourage the winners and other participants to improve.
2. Increases Your Reputation
This point is more applicable in the sports sector. After winning a medal, athletes feel a sense of pride in their accomplishments. There are communities of racers, swimmers, cyclists, and martial artists — whichever your discipline may be – and they interact.
The higher the quality of your medal, the greater the likelihood that more people will learn about your tournament and want to join to receive one.
Similarly, they apply to business entities. For example, if you award your customers elegantly customized trophies, your rival companies will be tempted to shift to your brand to stand a chance of winning these awards.
3. Adds Professionalism
You don't necessarily have to be a top manager at a big company to make your employees feel great about their working environment. One of the best ways to make them feel good about their jobs is by appreciating their efforts—and nothing beats giving out customized awards.
Whether your firm is new or has been in the business a while, giving your employees high-quality customized awards that are special and classy may improve its reputation and leave a lasting impression.
4. Becomes a Collectable Keepsake
Most participants will strive to win your prize if it is intriguing, just like they would stamps, coins, or baseball cards. The customized medals and trophies are not only designed to appreciate one's hard work but also endeavor to describe a person's admirable traits.
As a result, most winners will keep them forever, constantly reminding them of their hard work. Consequently, their endeavors will significantly impact your company's performance—a win-win situation.
5. Gets Media Exposure and Recognition
This strongly relates to marketing. If there is a high chance that your event will feature on local and across different social platforms, then having a customizable award will do you great.
Gorgeous accolades get noticed. And when the audience is happy with your awards, they will probably start following your brand. This will attract many buyers or subscribers to your organization. Better yet, it'll also give a clue to highly-qualified job seekers to apply for job interviews.
6. A High-Quality Gift Lasts a Lifetime
Custom trophies are high-end, exotic mementos. For example, the quality glass trophy can be superb and are often custom-made and customizable to meet your needs. With their finely detailed 3D engravings, personalized trophies make a thoughtful, long-lasting present. Glass also assures that these awards will be durable, allowing you to have an outstanding gift for many years.
Such trophies will boost the morale of employees or athletes to work hard and secure them. In return, your firm or event will realize high performance.
7. They are Cost-Effective
It's possible that, in the long term, purchasing personalized awards and trophies will result in cost savings. When you place an order for your rewards, you will be allowed to customize the engraving, which will allow you to choose the current price. In addition, one can save even more money by ordering a large number of trophies or awards.
Bottom Line
Many events and corporations benefit from custom medals. The awards help in the development of your brand and the promotion of your business.
These incentives create a sense of value for the athletes and employees. Additionally, they can be used to build morale and increase employee satisfaction.