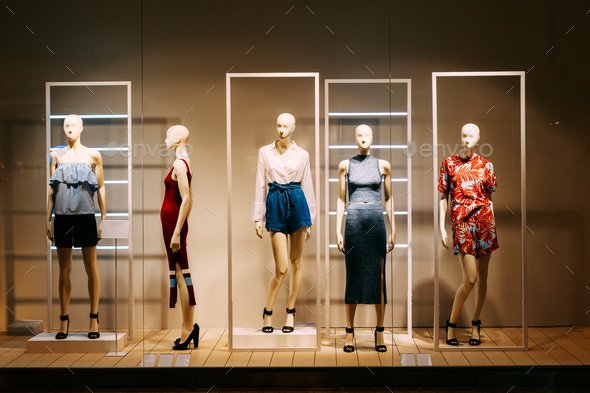 These days women like seeing realistic portrayals of themselves in the apparel industry. Since not everyone has model-like proportions, a proper presentation is something everyone looks for as this makes them feel good about their own body. However, there will still be a strong argument for industrial diversification. Many businesses have embraced this change wholeheartedly. And they have started using mannequins with normal body shapes. 
Mannequins help to promote your brand in addition to representing the outfit. What's the wonderful news, then? Since there are many sites that offer mannequins for sale, you won't have to spend loads of money. Keep reading to know five ways mannequins can increase your sales.
1.Tell the tale
 Leading the buyer on a beneficial buying journey will not finish with clothing the mannequin with the most recent collection of clothing you have. As a retailer, you must convey a message to the customer that will influence their decision to purchase the clothes.
To encourage the consumers to purchase a particular clothing item, outfit, or accessory, the remaining portion of the storefront display should enhance the impression of the customer. Make it challenging for consumers to overlook or go by using objects and creative placements.
2.Step out of the street
 You've got the opportunity to make a significant impression and establish a magnificent mannequin display. Although it's excellent to draw in passersby, why not just go one step beyond that and address the audience at home?
Use a direct mail campaign to get prospective clients to look at your collection. Fortunately, there are businesses that may relieve you of the burden of managing this profitable marketing technique. 
 3.Go further into the details
 Most individuals wouldn't wear clothing precisely as it appears on a mannequin in real life. Therefore, when decorating the mannequin, consider the nuances of the style you would like to achieve in a genuine, comfortable living manner.
Give your consumers suggestions for how they may personalise the combination by adding accessories and popping the neckline. They are already close to the cashier when they begin to see it in their closet.
4.Create cultural ties
 Participating in the community is very important for small local companies. Reaching out to local people and inviting them to participate in your clothing display is an efficient and affordable method to promote your business.
For instance, encourage a particular group of fashion students to create a mannequin-based storefront that highlights their interest in fashion. Every participant will be enthusiastic about inviting their relatives to see their masterpieces, giving you a unique design every week and bringing in possible new customers.
5.Blend it up
Determine what you'll need to properly sell your merchandise before ordering any mannequin. Be daring in the selections and spend money on various mannequins in all sizes, colours, and styles. You can get them from local stores that offer a mannequin for sale. This way, you will also be able to save some cash. 
A straightforward but greater opportunity on the journey to turning store visitors into customers is by dressing the mannequin in fitted clothing.
Wrapping up
Every mannequin does not have to stand straight in attention. Show consumers how clothes look after wearing. Mannequin presentations may be enhanced in a variety of inventive ways. Remember, the best mannequins for sale could be more affordable for you.
Hopefully, these tips helped you a bit in understanding that mannequins are not just for showcasing the clothes, but they can effectively increase your sales.